Fiocchi HV Buckshot 12 ga 2.75"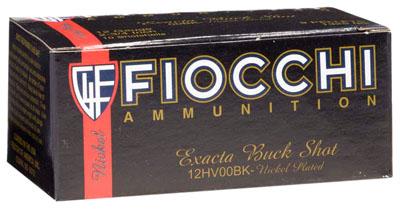 Currently Unavailable
MSRP

$899
Fiocchi HV Buckshot 12 ga 2.75" 9 Pellets 00 Buck Shot 10Box/25Case
Fiocchi offers the hunter a wide selection of hunting loads that incorporate nickel plated shot to help make any hunt more successful. Nickel plated shot gives the hunter such benefits as denser, more consistent patterns with fewer stray pellets and increased range and penetration than non-plated shot. Nickel plating helps the shot pellets retain their original aerodynamic spherical shape during firing and passing through your shotgun's choke.
Item Info
| | |
| --- | --- |
| Item | Available In Store |
| UPC | 762344702674 |
| Brand | Fiocchi |
| Model | 12HV00BK |
| Gauge | 12 Gauge |
Tech Specs
| | |
| --- | --- |
| Type | Lead |
| Length | 2.75" |
| Ounces | 9 Pellets |
| Shot Size | 00 Buck |
| Muzzle Velocity | 1325 fps |
| Rounds Per Box | 10 Rounds Per Box, 25 Boxes Per Case |
| Hull Material | Max |
| Application | Hunting |
| Purpose | Hunting |
| Series | High Velocity Buckshot |
| Size | 00-9 |
| Gauge or Caliber | 12 |
| Shell Length | 2-3/4 |
| Drams Of Powder | Max. |